Jeremy Chia biography
Singapore
Jeremy Chia FCII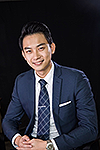 With a background in engineering, Jeremy is now pursuing his Masters in the fields of data analytics and technology. He hopes to further develop his knowledge and expertise in the area of Insurtech to help traditional insurance companies adapt to and leverage industry 4.0.
He has leadership and operational experience in both local and international projects across various fields – academic, humanitarian and military. Jeremy's experience includes serving in the executive committee of various youth organisations and committees such as the Singapore International Science Challenge (SISC), People's Association Youth Movement (PAYM) and the Singapore Model United Nations (SMUN). These positions have cultivated his interest in strategic planning, operations and risk management.
Jeremy was amongst 16 top-tier graduate talents selected to be part of Singapore's flagship talent and leadership development programme – the Insurance Management Associates Program (iMAP), Underwriting track. It is a structured fast-track programme that was launched to develop a strong core of future leaders for the Singapore sector. He had previously worked on the Lloyd's Asia platform as an Underwriting Assistant for Aspen and was recently featured in the Asia Insurance Review (September 2018) for completing his ACII in under a year.
Of the 200+ new graduates since its inception in 2009, Jeremy had been selected as the first ambassador of the iMAP talent development programme. As of December 2018, he has also become one of the youngest Fellow of the CII (FCII). His FCII dissertation topic of choice is the Strategic Analysis of the Cyber Market in Asia: What are the key considerations for the development of a successful cyber risk management portfolio?
Besides matters relating to risk management, artificial intelligence, blockchain technology and FinTech/InsurTech innovations, Jeremy's interests also include cooking and water sports – with a special love for diving.