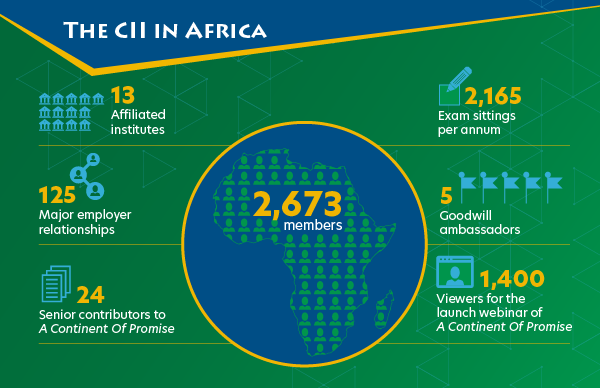 Enhancement to exams
Update: CII launches enhancements to assessment options

CII in Africa: Year In Review 2020

Please download a copy of the CII Africa's Year In Review 2020.
Goodwill ambassadors
Please click on the links below to find out more information about our wonderful Goodwill ambassadors in Africa.
Rev. Asante Marfo-Ahenkora FCII, Chartered Insurance Broker, Ghana
Maclonex Mwase ACII, Chartered Insurer, Malawi
Maya Nundloll André FCII, LLM, Chartered Insurance Broker, Mauritius
Dr Tonia Smart FCIIN, Nigeria
Hajjat Aphwa Kawaase Sebyala, Chartered Insurer, Uganda
2020 Edition – A Continent of Promise: webinars
To celebrate the launch of 'A Continent Of Promise', the CII hosted two webinars on 3 November. These can be viewed below.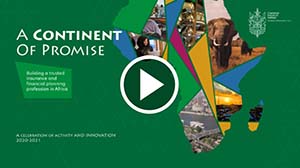 [Please click on the image above to view the video]
Session One celebrated the work of insurers and brokers.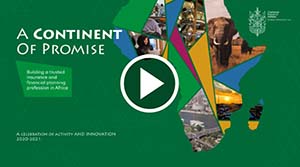 [Please click on the image above to view the video]
Session Two celebrated the work of institutes and training colleges.


2020 Edition – A Continent of Promise: report
A Continent Of Promise is a major publication that showcases the impressive work underway throughout Africa to build a trusted insurance and financial planning profession.


Click the image above for single page version | Double page spread version (PDF)
Highlights include:
Special features – insightful contributions from insurance leaders, including:


Rajab Selemani Kakusa,

 

Chief Executive Officer, Tanzania Reinsurance Company
Donbell Mandala,

 

Chief Executive Officer, NICO General Insurance
Caroline W Mwangi,

 

Head of Human Capital, GI and Health, UAP Old Mutual
Karen Olege,

 

Head of Learning and Development, ICEA LION
Dominic Osumo, Group Managing Director, ARiS
Louis Rivalland,

 

Group Chief Executive Officer, SWAN
Zeru Woldemichael Tesfazghi,

 

Chief Executive Officer, National Insurance Corporation of Eritrea
Special features – insightful contributions from insurance institutes in 12 countries throughout Africa

Exam centres – an update on the CII's plans for public exam centres in Africa

Professional body membership – for the first time, the CII publishes the views and expectations of its members throughout Africa.
The Chartered Insurance Institute – Africa 
The CII has been active in Africa for decades, working with partners including affiliated institutes, training colleges, regulators, major employers and many more. Recent activities have included:
Collaboration with our affiliated institute in Uganda on a programme, broadcast throughout Africa, on how insurers and insurance training bodies can work together to support the re-vitalisation of society in the aftermath of the Covid-19 pandemic.
Many more venues, including affiliated institutes, now act as CII public examination centres
We have also donated library books to institutes in a number of countries, including Ghana, Nigeria and West Africa.
The CII has recently been appointed as an accredited organisation by the Commonwealth, enabling us to work more closely with Commonwealth officials and other accredited organisations to support the Commonwealth's objectives – especially creating opportunities for young people, promoting gender equality, and boosting economies through trade and investment.  There's a strong overlap between the CII's footprint in Africa, and the countries which are members of the Commonwealth.
As we anticipate the decade ahead, we've never been more positive about the Africa's prospects.
There is a growing recognition of the power of a vibrant, robust insurance sector to underpin economic development and strengthen the resilience of businesses, families and individuals.
Throughout Africa we are seeing the emergence of a generation of ambitious, tech-savvy young people who recognise the value of learning in their future careers.
The CII's role in the African insurance ecosystem is to help facilitate, support and celebrate the creation of a confident profession. We recognise the importance of being a trusted partner, and this means ensuring our learning services are relevant, our members are fully engaged, and our contributions are insightful.
For more information, please contact: customer.serv@cii.co.uk