Yogesh Dodani biography
Singapore
Yogesh Dodani ACII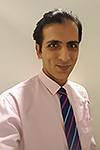 Yogesh is an insurance and financial services' professional with over 15 years of experience in business development, and relationship, product and risk management.
He currently works with a global MNC bank, managing the insurance product risk function for the APAC and EMEA markets. He has been with the organisation for over 10 years, having driven insurance sales, strategy, product and partnership management, and digital initiatives.
Previously, Yogesh worked for major insurance companies in India, including RSA, in various capacities which included, Branch Manager and Regional Sales Head for Agency and Broking channels.
He holds an MBA in Marketing, is an Associate of the CII and holds a Fellowship from the Insurance Institute of India. He believes in lifelong learning, and has also done course certifications pertaining to digital transformation and fintech.