Yashesh Sampat biography
India
Yashesh Sampat ACII
Chartered Insurance Broker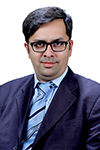 Yashesh is Head of Affinity and Association at Gallagher Insurance Brokers Pvt Ltd. He has more than 20 years of experience in the insurance profession.
He is a Fellow of the Insurance Institute of India, a Chartered Insurance Broker, and ACII holder with the Chartered Insurance Institute. Yashesh has played an extensive role in mentoring young professionals in pursuing education and the advancement of their career. He is a well-known face in the insurance industry in India.
Yashesh is a regular speaker at various business forums in India and overseas, and teaches at various education institutions. His ongoing initiatives at work have influenced many people to engage with a variety of insurance solutions.