Wenpeng Li biography
China
Wenpeng Li ACII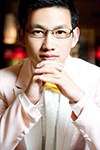 Wenpeng Li graduated from the Central University of Finance and Economics with a major in insurance and since attained ANZIIF Senior Associate title in 2012, ACII title in 2016 followed by CPCU title in 2017.
He had over 12 years of insurance broking experience in the Chinese market before moving in 2018 to Generali China Insurance to the position of director of their international department.
Wenpeng has written technical articles and delivered seminars that have been utilised by the Chinese insurance market and has spent much of his career promoting CII qualifications and mentoring new entrants to the sector.
He is very passionate about the sector and the importance of improving the knowledge and professionalism of his peers.