Farzana Chowdhury biography
Bangladesh
Farzana Chowdhury ACII
Chartered Insurer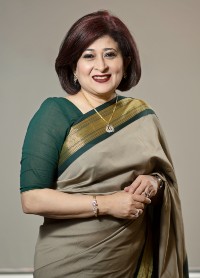 Farzanah is a highly prominent figure in the Bangladesh insurance sector, and whom we are proud to count as our Goodwill Ambassador.
She is the Managing Director and CEO of Green Delta Insurance Company Ltd and holds a wealth of distinguished positions, including Co-Chairman of the FBCCI Standing Committee on Capital Markets and Bond for FBCII for the term 2021-2023; Executive Committee Member of Bangladesh Insurance Association; Vice President of Bangladesh Insurance Forum, and Board Member of Bangladesh German Chamber of Commerce and Industry. She also has recognition by UN Global Compact as a local SDG Pioneer for Women's Economic Security.
Other accolades include, the prestigious Public Trust Award from the CII for building public trust in financial services and insurance, and "Woman Leader of the Year" in the Asian Insurance Industry Awards 2019. Notably, under her stewardship Green Delta Insurance joined hands with the Government of Bangladesh in the Shastho Shurokkha Karmasuchi (SSK) project, ensuring health coverage of more than 650,000 people under the poverty level. As a result they received Honourable Mention for Excellence in Sustainability 2020 by the World Economic Forum. Recently she has been also honoured as Global Chair of G100 for her remarkable contribution on Health and Wellness.
Working closely with Farzanah, the CII can make great inroads with leading organisations and stakeholders to foster excellent relationships and boost professional standards across Bangladesh.