Dr Suzanne White biography
Bahrain
Dr Suzanne White FCII
Chartered Insurance Practitioner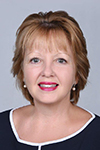 Suzanne started her career with UK insurance giant Sun Alliance, moving on to work with RSA and then General Accident (CGU) as a general insurance commercial underwriter. She managed the commercial portfolio of one of the UK's largest brokers in the City of London and then qualified as a university lecturer, spending seven years in a senior lectureship position at a London University, teaching insurance and risk management courses and leading an insurance teaching team.
She also worked with the Chartered Insurance Institute (CII) for many years, as a consultant as well as facilitating training at the Face to Face provision in London and worldwide. In Bahrain, she led the insurance team at BIBF, moving on to become the President of a branch of an American university with over 3,500 students. 
Her most recent roles have been running her own training center in Bahrain (Oasis Training Center) and working with new ventures in the Kingdom of Saudi Arabia, setting up learning and development departments and focusing on leadership, interpersonal skills and emotional intelligence in the workplace, as she is passionate about helping people achieve their full potential. Her PhD was in Educational Research, focusing on the use of e-learning in the insurance workplace.