Dr Abhijit Chattoraj biography
India
Dr Abhijit Chattoraj ACII
Chartered Insurer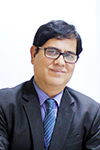 Dr Abhijit Chattoraj is a well-known academic, insurance professional and current professor and chairperson for the programme in Insurance and Business Management at the Birla Institute of Management amd Technology (BIMTECH). 
Prior to this, he worked for a major public sector insurance company for over 20 years and headed the Amity Business School at Amity University, Mumbai. His expertise lies in organising high end management development programmes in service and brand marketing, health insurance and other streams of general insurance business.
Abhijit is co-author of Basics of Health Insurance, Health Insurance Claims Management and Health Insurance Operation catering to the needs of health insurance professionals and B school students in India and many other countries. He also co-authored the book Health Insurance in India a review.
As a consultant, he played a pioneering role in designing the bid document of a Health insurance Scheme for the Government of Maharashtra – popularly known as Rajiv Gandhi Jeevandai Arogya Yojana (RGJAY) – one of the biggest health insurance schemes launched in India for BPL and APL population in 2010.
He has been a visiting faculty at IIM Indore, National Insurance Academy, Pune, Insurance Institute of India, Mumbai, Armed Force Medical College, Pune, ILS Law College, Pune, Xavier Institute of Social Services (XISS), St. Xavier's College, Department of Management, Pune University, Symbiosis Healthcare centre.
Abhijit received his degree in Master of Business Administration from Birla Institute of Technology, Mesra, India and Advanced Diploma from the Chartered Insurance Institute. He is a Fellow of the Insurance Institute of India and holds Certificate in Health Insurance Fraud from North American Training Group and Helpmate services. He also holds a post graduate Diploma in Human Resource Management form IGNOU, India.
He received his PhD in Health Insurance Marketing from the Department of Management, University of Pune, India. Drawing upon 25 years of professional experience, Abhijit created two powerful models – "Rural Health Insurance Penetration Model" and "Rural Health Claims Management model" in his PhD thesis.