Dinesh Poudyalaya biography
Nepal
Dinesh Poudyalaya ACII
Chartered Insurance Practitioner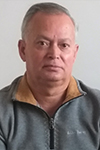 Dinesh is a native of Nepal and holds Chartered status, an MBA, and has over 40 years' experience in the insurance profession which include CEO positions at some of Nepal's non-life insurance companies. He also has significant exposure to international insurance through visits to Mumbai, London, Zurich and Munich.
Alongside this Dinesh is also involved in projects to establish some of the insurance companies in Nepal and has been the member of the Tariff Advisory Committee, a body to review technical matters in insurance, of the Insurance Board. He is also alumni of the CII College of Insurance – UK, Swiss Re Academy – Switzerland and III College of Insurance – India.
Dinesh now works as a freelance consultant and continues to maintain professional relationships with his peers.
He is a life member of the CII, NIPS (Nepal Insurance Professional Society) and ABAN (Association of British Alumni of Nepal).
His passion for insurance and reinsurance remains active through mentoring and nurturing the next generation of talent in the profession.