Budmaa Tsend biography
Mongolia
Budmaa Tsend Dip CII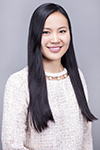 Budmaa Tsend is a Reinsurance Senior Manager at Mongol Daatgal Insurance Company. She began her career in 2012, after graduating from the School of Economics, National University of Mongolia with major in insurance. Throughout her career Budmaa has been responsible for handling major corporate accounts and multi-line underwriting including aviation, engineering and property.
Her main responsibilities are treaty and facultative reinsurance, as well as overseeing reinsurance within the company and international relationships. She started her CII study in 2013 and completed Certificate in Insurance in 2014 and Diploma in Insurance in 2017.
Budmaais a certified trainer from Research and Development Centre of Mongolia and delivers seminars to the colleagues and new entrants to the market.