Adeel Mushtaq biography
Qatar
Adeel Mushtaq ACII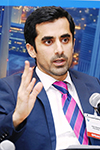 Adeel is Senior Vice President with Qatar Insurance Company (QIC) with over 22 years of experience in insurance, investment management and professional accounting and advisory. Prior to joining QIC, Adeel was a Director at KPMG and EY, where he advised global insurance groups in Europe, Americas and GCC.
Adeel is keen advocate of ethical finance and known for his eloquent devotion towards Takaful and ethical finance and in raising awareness. Adeel led Takaful Working Group (TWG) to develop Takaful accounting model and thought leadership on IFRS 17 – Insurance Contracts.
His experience includes claims and underwriting value chain automation and transformation, advising on InsurTech initiatives and regulatory developments. Adeel regularly contributes thought leadership publications and presentation on insurance, Takaful and risk management and has presented papers at conferences and seminars on insurance and Takaful.
Adeel has also served on members' advisory committees of the professional bodies and has keen interest advising and mentoring. His rich experiences have cultivated keen interest in developing strategic leadership.
His professional qualifications include Associate membership of the Chartered Insurance Institute, Institute of Chartered Accountants of England and Wales (ICAEW), Fellow membership of the Association of Chartered Certified Accountants (ACCA). Adeel also holds a Masters from University College London (UCL).