Modernising the CII
Changes to our governance
We are proposing some changes to align the way the organisation is run with modern governance practices. The proposed changes will be subject to a member vote as part of the proposals being recommended at this year's CII AGM on 26 June 2019.
Whilst many of the changes are around simplification and clarification, there are some material amendments, particularly around the structure of the CII's Board; it is increasingly necessary that the Board has the skills, experience and diversity to meet the challenges of the future.
Watch our dedicated webinar
We wanted to explain the proposed changes to the CII's Charter and Bye-laws before member voting opens, and give you the opportunity to ask questions.
We held a dedicated webinar for all our Members on 2 April 2019 which is now available to watch below.

In addition to the webinar, our members can ask questions via a dedicated email address which is bye-lawchanges@cii.co.uk. Any question you have will be responded to.
Read the answers to your bye-laws questions (PDF)
Proposed changes
Find out about the proposed changes in detail by viewing the documentation below:
Proposed Board structure: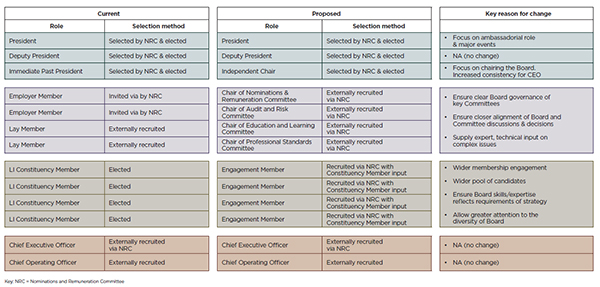 [Click to enlarge]
Learn more about our Board and current governance structure.
Frequently asked questions
Please read the modernising our governance structure FAQs for answers to frequently asked questions.